FileBot
7.9
Would you like some episode titles with your torrent file, sir?
TV show bingers and BitTorrent aficionados will love this one. Filebot is a godsend when you're dealing with poorly titled video files, missing subtitles or both. Filebot works in close conjunctions with a couple of sites, one of which is OpenSubtitles.org. Creating an account on OpenSubtitles is highly recommended.
The primary function of FileBot is video file renaming. You simply drag and drop a folder or individual files into the left-hand box and then either click on Match or on Fetch Data. They both do the same thing but in a slightly different manner. You will then be presented with a pop-up list of sources. That list also contains a link to the program preferences menu, which usually ends up hidden behind the Windows program bar. Simply click on an option and FileBot will fetch the best matching episode list. From there you can give the Go on renaming your files.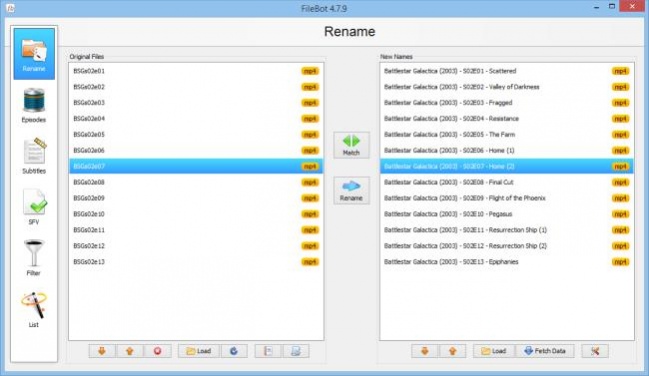 Right clicking on an episode and selecting Edit Format will let you customize the format in which the episodes are named. You can select from several models, or you can try your hand at composing a custom format, provided you know a bit of scripting/programming.
FileBot is also a great tool for sourcing subtitles. By selecting a preferred language and typing in the name of the series or show, you get a list of results, from which you can select then download multiple items. be advised that here is where you need an OpenSubtitles account. The process of creating one is simple though. You just need to verify your new account via email and you're good to go with FileBot.
The SFV section lets you create checksums or hash files for your show files. FileBot supports SFV (obviously), MDS, SHA1, SHA2, and EDK2.
Beyond that, Filebot lets you analyze a folder's structure and video file metadata in the Filter section. You can also generate custom list items in the List section, again provided you know basic scripting concepts. The list can then be exported as individual text files. Pretty handy if you intend to create a series subtitles yourself.
Features
Batch file renaming based on fetched cloud data, with optional formatting
Episode list lookup
Subtitle finder
Checksum file generator
Folder tree view analyzer
Feature for creating text files with sequenced titles
Final Thoughts
FileBot works like a charm when it comes to regular episode lists. However, be advised that it will not cover for alternative releases. For example, The pilot episode of Battlestar Galactica was first released as a two part miniseries. However, even if that was the case with the files in my BSG folder, FileBot could not distinguish between part 1 and 2, forcing the same title onto both. Unsurprisingly, it then screamed "Duplicate", and let me no choice but to remove one of the two files from the folder. In essence, what's missing in FileBot is the possibility of individual file editing. That's a very important feature that is sadly missing from FileBot.
RELATED PROGRAMS
Our Recommendations
---
---
---
---